Dr. Syaril Azrad Md Ali obtained B.Eng and M. Eng from Department of Mechanical Engineering from Tokyo University of Science and Ph.D from Department Mechanical Engineering, Chiba University. He has been a lecturer at Department of Aerospace Engineering, Universiti Putra Malaysia since 2013.
His research interest includes Nano/micro/pico-satellite Design and Development, Vision-based control of Unmanned Aerial Systems, High-altitude Wind Energy and Balloon Systems.
He has organized several yearly competitions and workshop for high-school students involving CanSat and High Altitude Balloons in Malaysia.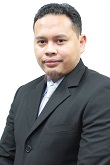 Syaril Azrad Md Ali
Malaysia Regional Facilitator